Fresh Food & Ancient Wisdom
Discover How to Feed Your Dog, Create Great Health, & Spend Less in Vet Bills!
Does This Story Sound Familiar to You?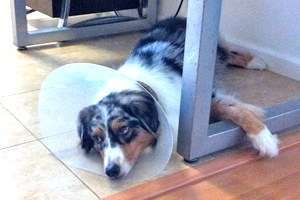 Once upon a time, a happy dog named Miki was adopted off of Craigslist(™) and found herself in a young, busy family. This family adored her, and went to the finest pet store in the area to buy her a premium brand of dog food. Being that her owners were smart and savvy shoppers, they read the labels of all the foods and settled on a brand that claimed to have natural ingredients, vitamins, and real meats.
However as the months passed, Miki developed rashes on her legs, smelly ears, and could not stop licking her paws or chewing on her itchy spots. Like many dogs, Miki had developed food allergies. Her owners had no choice but to put the plastic "cone of shame" on her head so she wouldn't lick her rashes into open wounds!
Poor Miki was a miserable, itchy dog. Her owners went to their local veterinarian who prescribed steroids and antibiotics, which cleared the rashes for a little while, until the cycle began again. In frustration, Miki's owners tried a number of other commercial diets for allergies with no luck.
If you can relate to this story, rest assured, you're not alone. Many of the modern day health problems in dogs stem from improper nutrition in most commercial diets.
Commercial pet foods have long contained questionable ingredients (including toxic chemicals) because there are limited regulations and inspections in place to test these products. Yet, many veterinarians and most dog owners continue to be in the dark about these harmful additives and feed their beloved dogs these troublesome foods. Poor nutrition leads to more health complications, leading many dogs to spend the majority of their lives in some state of disease or pain.
What if There Was a Better Way?
Indeed there is! Dr. Basko's dog nutrition book Fresh Food and Ancient Wisdom is a simple guide to improving your dog's health and happiness through balanced home-cooked diets filled with natural, organic, and fresh ingredients. With an emphasis on principles of Eastern food therapy, Dr. Basko will show you how to heal disease and maintain optimal health through the power of fresh food and balanced nutrition. This book will help you understand how to help your dog in times of illness and stress, and how to strengthen your dog's immune system throughout his life. Bonus: If you can't cook, this book will guide you to make delicious meals that you can eat too!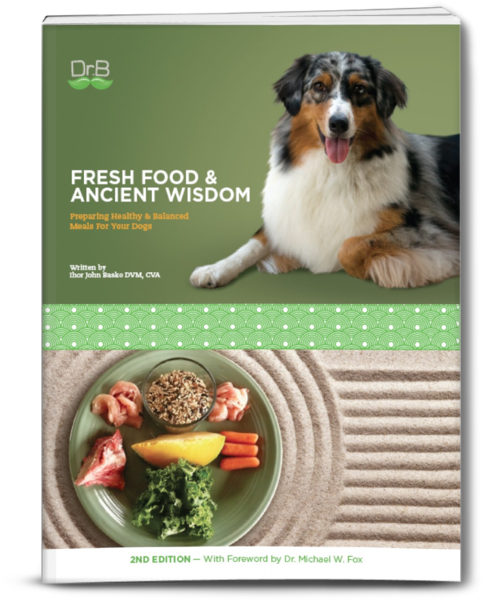 A Wonderful Transformation
Remember that young couple with Miki? Well, with the help of Dr. Basko's book, they discovered a new way to feed Miki – using fresh ingredients (real vegetables and meats!) and leftovers from the fridge. After just a few months on this new diet of non-processed, home-cooked food, Miki became a normal dog again! Her rashes began to clear up, her ears no longer smelled, and she had renewed energy and vigor for life. As an added bonus, Miki LOVES food, and she now explodes with genuine joy at every meal. Miki is a part of the family, and now she shares her meals with them too.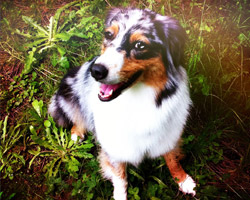 As with people, changes in diet can make significant improvements to your dog's overall health. With more and more emphasis on healthier, natural meals for ourselves, why not do the same for our beloved dogs?
Here's What You'll Find in Fresh Food & Ancient Wisdom:
18 Chapters & 320 pages of helpful tips, suggestions, and guidance
Over 100 easy-to-make recipes your pet will love, (and you'll be proud to feed!)
Special chapters for geriatric dogs, fighting cancer, skin problems, and natural supplements
Canine nutrition theory, so you'll understand what your dog needs
A primer on principles of Eastern food therapy and how to apply them to your dogs
A breakdown of the medicinal properties of many fruits & veggies
An appendix of info containing templates for green smoothies, summer diets, winter diets, and more
Color-coded chapter sections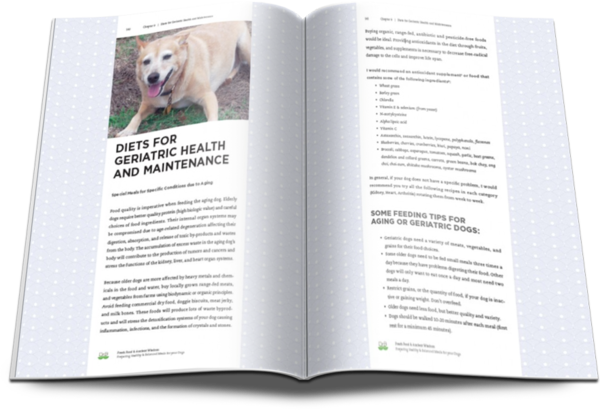 Fresh Food & Ancient Wisdom Chapter List
Chapter 1: The Current State Of Canine Nutrition
Chapter 2: In The Beginning
Chapter 3: Food Wisdom From The Orient
Chapter 4: Getting Started
Chapter 5: Understanding Your Dogs' Special Needs: Factors To Consider When Formulating Dog Food
Chapter 6: Making Your Own Supplements
Chapter 7: Meals For Puppies, Young Dogs, & Adolescents
Chapter 8: Meals For Adult Dogs (2-8 Years Old)
Chapter 9: Diets For Geriatric Health & Maintenance
Chapter 10: Skin Problems & Allergy Diets
Chapter 11: Cancer Diets: Functional Nutritional Intervention
Chapter 12: Recipes To Support The Functions Of The Liver, Pancreas, & Digestive Organs
Chapter 13: Overweight Dogs & Recipes For Reducing
Chapter 14: Vegetarian Meals
Chapter 15: Quick Meals, Snacks, & Treats
Chapter 16: Diabetic Diets
Chapter 17: Heart Healthy Diets
Chapter 18: Feeding Tips & Last Words
Be sure to check out the book excerpt right here. You can read the Introduction and part of Chapter 1.
This Book is For You If:
You've ever questioned the quality of your dog's commercial diets
You want to learn how to prepare simple and balanced home-cooked meals for your dog
You're interested in learning about the medicinal properties of food, and how to use them to help improve health in a sick pet
You're interested in raw food preparation
You're interested in how to feed an aging, overweight, or allergic dog
Enjoy more years with your beloved friend, by applying the principles found in Fresh Food & Ancient Wisdom.

Get Started Today!
The knowledge contained in this book is comprised of Dr. Basko's expertise and experiences in the fields of animal nutrition, ecology, anthropology, evolution, and Traditional Eastern Medicine, collected over the past 40 years. Dr. Basko routinely lectures around the country at different veterinary conferences, where tickets sell for over $500 (not to mention, you need to be a veterinary professional to access the conferences). You can have access to his knowledge and health remedies for a fraction of the cost!

PAPERBACK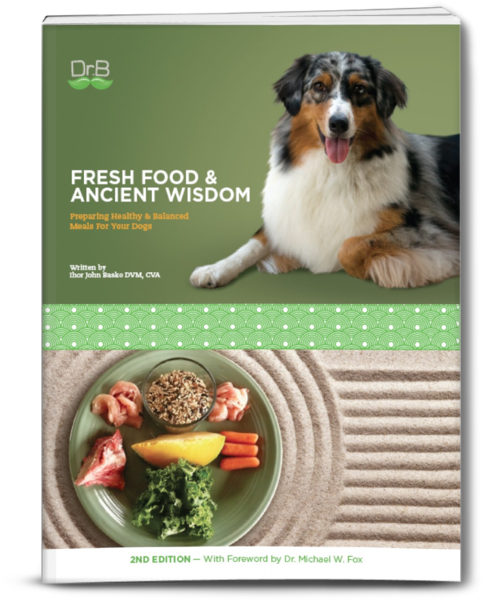 Fresh Food & Ancient Wisdom (2nd Edition) Paperback – $49.95
WHAT YOU'LL GET:
Dr. Basko's 320-page, 18-chapter dog nutrition book in 8.5″ x 11″ format
Tips and strategies for optimizing your dog's diet at all stages of life
Over 100 easy-to-follow recipes that you can recreate at home (and a few you can eat, too!)
SHIPPING DETAILS: U.S. orders only. Books ship out in 1-3 business days from Kauai, Hawaii. If you need this book ASAP, please email us so we can help expedite your order. If you are outside of the United States, we suggest that you purchase Dr. Basko's digital version of this book (see below).


DIGITAL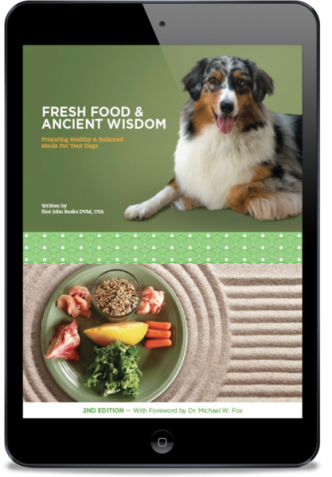 Fresh Food & Ancient Wisdom (2nd Edition) Digital Book – $39
WHAT YOU'LL GET:
Dr. Basko's 320-page, 18-chapter dog nutrition book, in digital format
Tips and strategies for optimizing your dog's diet at all stages of life
Over 100 easy-to-follow recipes that you can recreate at home (and a few you can eat, too!)
**Please note: This book is in digital format (downloadable), so nothing will be mailed.

TECHNICAL DETAILS
Technical Details for the Digital Version of this Book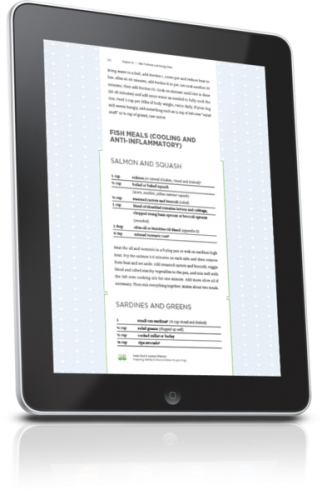 Upon receipt of payment, you will immediately receive access to download the book file to your computer. We recommend using the internet browsers Google Chrome, Apple Safari, or Mozilla Firefox to complete the payment process and retrieve your download. You should also have a consistent internet connection – the book file is quite large and may take some time to download, dependent upon your connection speed.
Note: This book is not formatted for the Kindle or other black and white electronic readers.
Why? Due to screen size constraints and current limitations of the technology, it is our opinion that Kindle devices and B&N readers are not appropriate for reference books, cook books, or any kind of dense text requiring a lot of back-and-forth page referencing. The Kindle and other devices are excellent for fictional novels, autobiographies, or other kinds of books that are meant to be read from cover to cover. However, if you've ever tried to read a dense cookbook (say Julia Child's 752-page masterpiece, Mastering the Art of French Cooking) on the Kindle, you'll acknowledge that the reading experience is at best a tedious endeavor, and at worst a frustrating experience that severely hinders enjoyment of the book. You can however, view this book on your iPad!
For best viewing results, we recommend that you view this digital book on a screen size of 9.7 inches or larger.
Frequently Asked Questions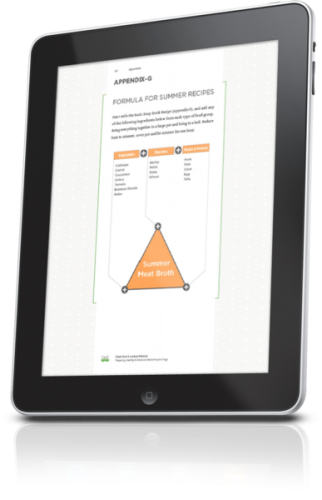 1. How do I download this file?
Just follow the simple step-by-step instructions to obtain the download link. We'll also need your name and email address (so we can send the download link to your email inbox as well…that way you'll have it in case you need to access it again).
Please give the file some time to download – the complete digital book is a large file and may take 10 minutes or longer to download, dependent on your connection speed.
Here are some helpful tips to make the download/extraction process a smooth one:
Use a consistent internet connection. Remember the file is fairly large and may take some time to finish downloading.
Be sure to turn your auto screensavers off, until the download process has completed.
Don't stream movies and music while downloading.
2. Can I share this with my mom? My best friend? That uninformed neighbor with his dog outside on a chain?
We do love your enthusiasm for the book and it is our mission to get this information out to everyone! However, this digital book is licensed to just one person – YOU. Please respect the hard work of the author, Dr. Basko, and everyone else who spent many sleepless nights bent over a computer screen working continuously to write the information, edit the pictures, design the book, and edit the material to bring you this wonderful and very concise guide. We know it's tempting to share, but if you know someone who could really benefit from this book, please gift them with another paid copy of our book, or direct them to our order page so that they may purchase their own copy.
3. Ok I've downloaded the files – now what?
Simply double-click on the file to open the file in your PDF reader (we suggest viewing in Adobe Acrobat, for best results). Give the file some time to load in Adobe Acrobat. It may take a minute or two.
4. How do I download and view this book file directly from my iPad?
Open the download link (sent via email) for the book in the Safari web browser on your iPad. The PDF file will then appear as a tab within your Safari session. Hover near the top of the screen, and you'll see a grey bar appear. At the far right corner, you'll see two options:
Open in "iBooks"
Open in …
Click on Open in "iBooks" and then give it 2-3 minutes to reformat and import the file into iBooks. Once the file is within iBooks, hit "PDF" in the settings/menu options of iBooks to go back and read it at any time.
5. How can I view the book file?
The file is in Adobe PDF format, which means that you can view it on any device that reads PDF files using the Adobe Reader or Adobe Acrobat software, or the Preview application (on Macs). You can view them on-screen, or on your iPad. You could probably even view them on an iPhone (though we don't recommend it, because the screen is much too tiny for this kind of book).
Most computers and devices already include Adobe Acrobat or Adobe Reader installed on the system, but if you don't yet have either program installed, you can download Adobe Reader for free, here:
You can also print out specific chapters, or recipes, and keep those handy during cooking. With the digital book, you won't have to worry about getting food on the pages – you can just reprint them again later!
If you have any other questions, technical or otherwise, please contact us.

TESTIMONIALS
What a gift for dogs is this book! It tops my list for learning the basics of canine nutrition, providing a host of recipes for home-prepared meals and supplements for dogs of all ages and sizes, and in sickness and in health. Coupling years of clinical experience with plant medicine, macrobiotic philosophy and Eastern medicine, Dr. Basko's book is an inspiration and wake-up call for veterinarians and all who care for dogs.

Author of the famous book "Not Fit For a Dog!" / Honor Roll Member of the American Veterinary Medical Association
Dr. Basko's new book is one of the best books I have ever read on food therapy for dogs. I highly recommend it.

A very high quality printing, it can withstand life in the kitchen.
The book is a text book for the serious veterinarian or dog owner who can use the recipes or the templates for making your own combinations of ingredients. It is absolutely wonderful. It mixes ease with reassurance, with many recipes available for all stages of a dog's life and health. A very good buy – I'm now more confident consulting on diets, and the client will surely save much more than the price in vet bills.
I wanted to tell you that I think it is incredible. I was actually moved to tears, and I must say I'm not sure why other than I think I finally saw in print – in one source – all that I try to convey for my patients and more. You have a great way with words, and the breadth of your experience and care is evident in the book. Good energy! Also, before I was able to go through it thoroughly, I sold it in the clinic to the first client I saw!

So I'll soon be ordering another for myself…